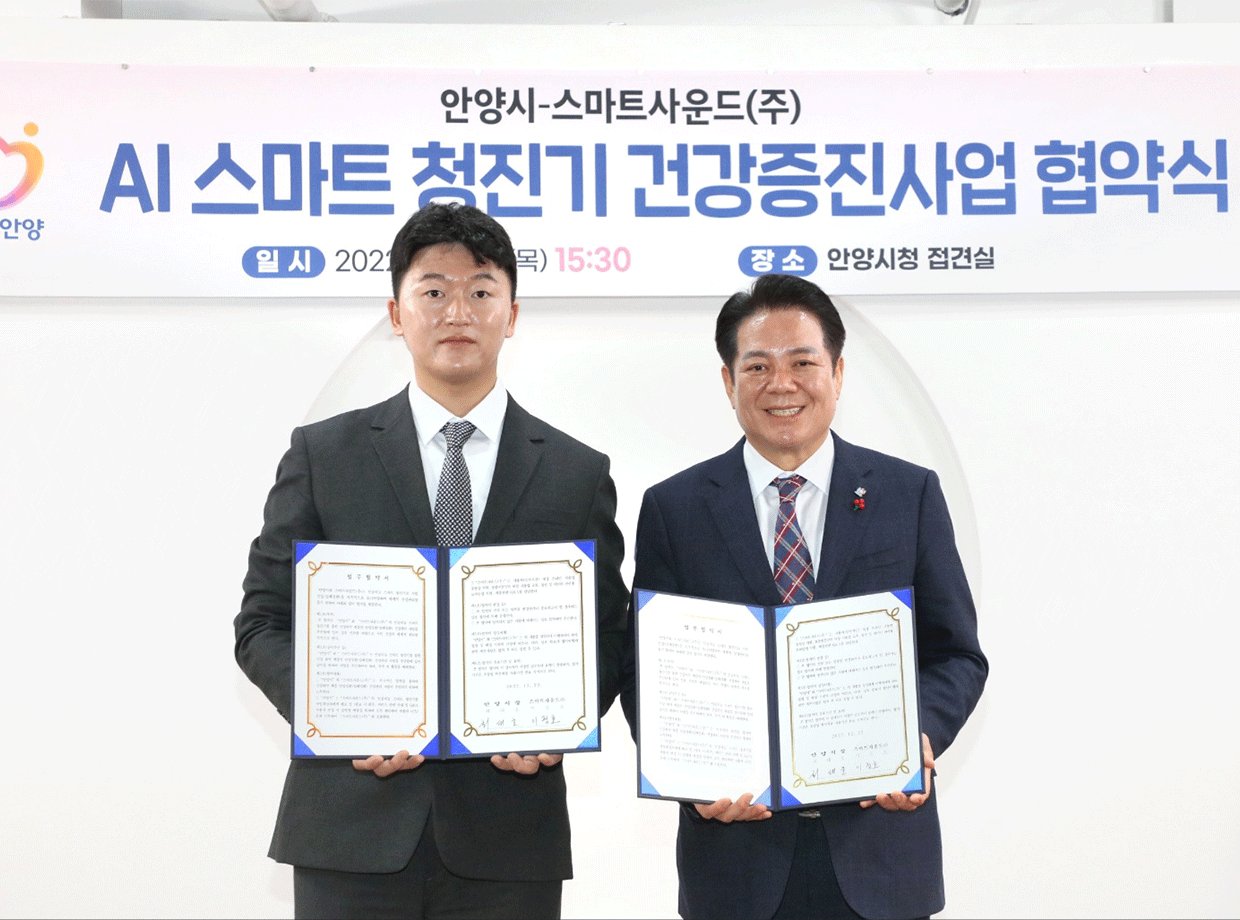 Anyang City, building a cooperation system with smart sound… Launching 'Smart Health Promotion Project'
December 23, 2022
Anyang City strives to build a digital healthcare health service to advance health operation efficiency.
Anyang City announced on the 23rd that it signed an agreement with Smart Sound on the 22nd at Anyang City Hall for the 'Artificial Intelligence (AI) Smart Stethoscope Health Promotion Project'.
As a result, Anyang City will provide 685 artificial intelligence (AI) smart stethoscopes, "Skeeper," developed by Smart Sound to the target of integrated care for health risk groups in the region and the families of patients with chronic heart and lung disease.
Skipper is a device that can diagnose the main symptoms of heart and lung diseases with high accuracy. Smart Sound has developed an 'AI solution' that identifies cardiopulmonary diseases with Skipper for the first time in Korea, and has won awards from the Minister of Science and ICT and the Minister of Health and Welfare. In addition, the AI solution is currently collecting and analyzing data while clinically cooperating with Seoul National University Bundang Hospital's EMR system and 10 domestic general hospitals, including Korea University Anam Hospital.
Choi Dae-ho, Mayor of Anyang, said, "We plan to support systematic disease management of cardiopulmonary diseases by introducing an AI-based self-management system for local health care targets and chronic patients who need continuous management." It will be the priming water of 'AI smart health administrative service'."
He added, "In the face of the COVID-19 transition and the aging era, Anyang City will take the lead in establishing a 'digital healthcare health service' such as AIoT-based integrated care for the elderly and health management for chronic patients, and realizing a happy city where the underprivileged can enjoy together."