Vision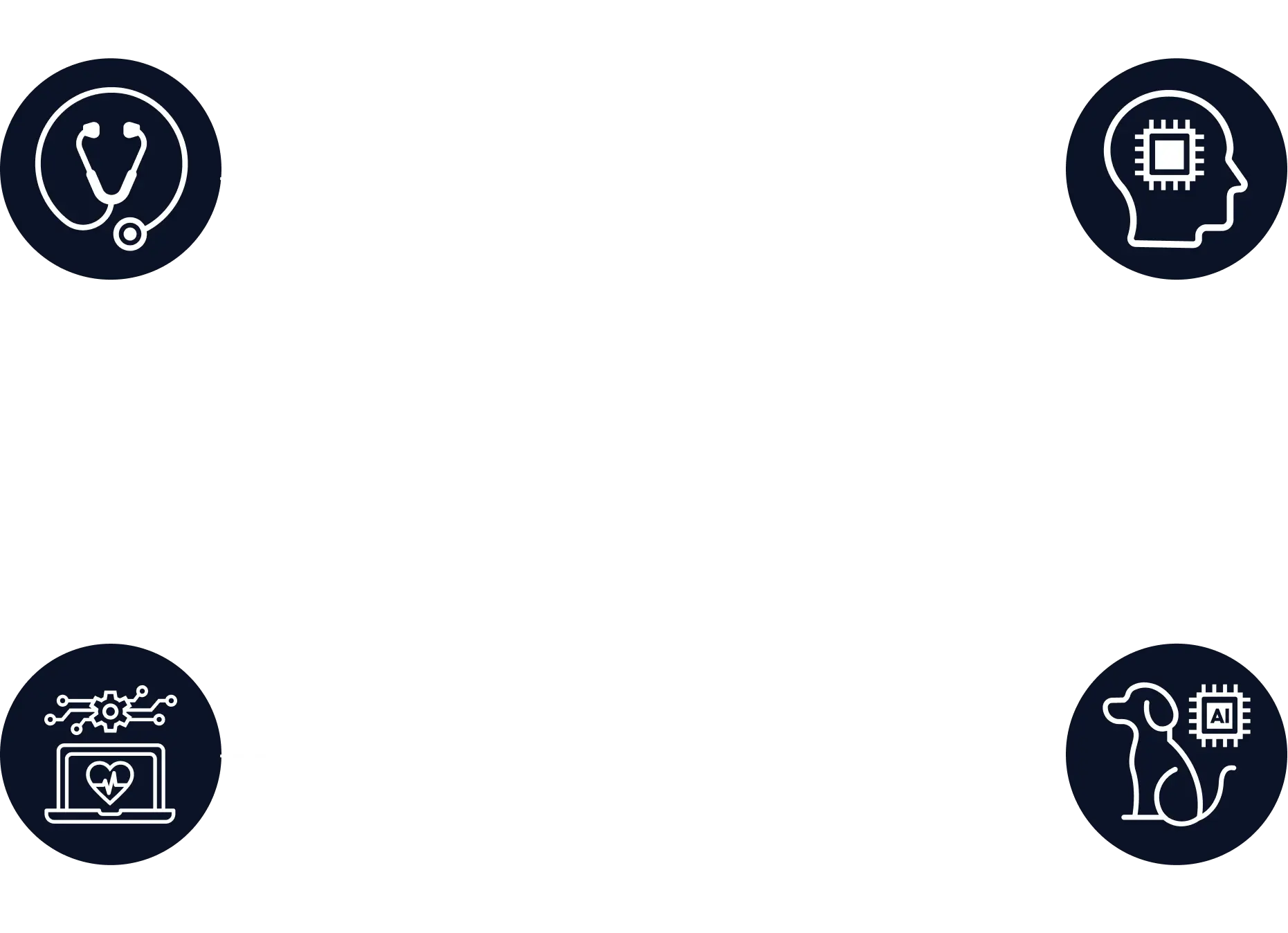 Global No.1
in the new smart stethoscope market
Global No.1
in the AI diagnostic solution market based on human sound signals
Global No.1
in the healthcare platform service market based on human sound signals
Global No.1
in the accuracy of diagnosis of MMVD of companion animals (Myxomatous Mitral Valve Degeneration)
Core Advantages
Heart and lung health analysis with AI
Skeeper H1
Skeeper SM-300
Free service
Paid service
Core Competencies
Core Technology Manpower

H/W : H/W Development capability with sound technology
S/W : Sound processing technology, firmware, algorithm design, communication technology, server technology
Leading Technology Ensure

Acoustic collection and preprocessing technology considering H/W sound input properties.
Data transmission technology for collecting sound through bluetooth communication
Optimal background noise reduction technology
Low frequency sound transmission technology
Securing Intellectual Property

Stethoscope device smartphone-linked stethoscope
Heartbeat regularity: regularity analysis of
R-PEAK between each of heart sounds (patented)
Heartbeat lullaby : Mixing with mom's heart sound and music (patented)
Pet health measurement system and method
Skeeper Edge AI
Skeeper AI is a medical support solution that is mounted on the R1 device and enables edge-computing based on stethoscope sound.
Skeeper's AIoT technology enhances the security of medical data and improves the treatment process for medical personnel.
SkeeperCare™ AI Service
(Measurement, diagnosis process and service history) The function to analyze the stethoscope sound to determine whether there is an abnormality in heart and lung health will be provided free of charge.
The opinion of "detailed cardiopulmonary sound disease reading" classified through the consultation of specialists and professors based on clinical data and a program linking health management will be provided for a fee.
AI Free Diagnosis
Cardiopulmonary sound, fetal movement
The presence or absence of cardiopulmonary disease (Y/N)

AI Paid Diagnosis
Detailed disease reading/Interworking with the healthcare Program
Aortic valve stenosis
Aortic regurgitation
Mitral valve stenosis
Mitral valve reflux
A Mechanical artificial valve replacement patient
Asthma
Chronic obstructive pulmonary disease(COPD)
Pneumonia
Interstitial lung disease(IDL)
Pleural effusion
Prenatal inspection
Pregnant women's stress management
AI self-diagnosis of respiratory
infectious disease (Clinical)
Hardware & Software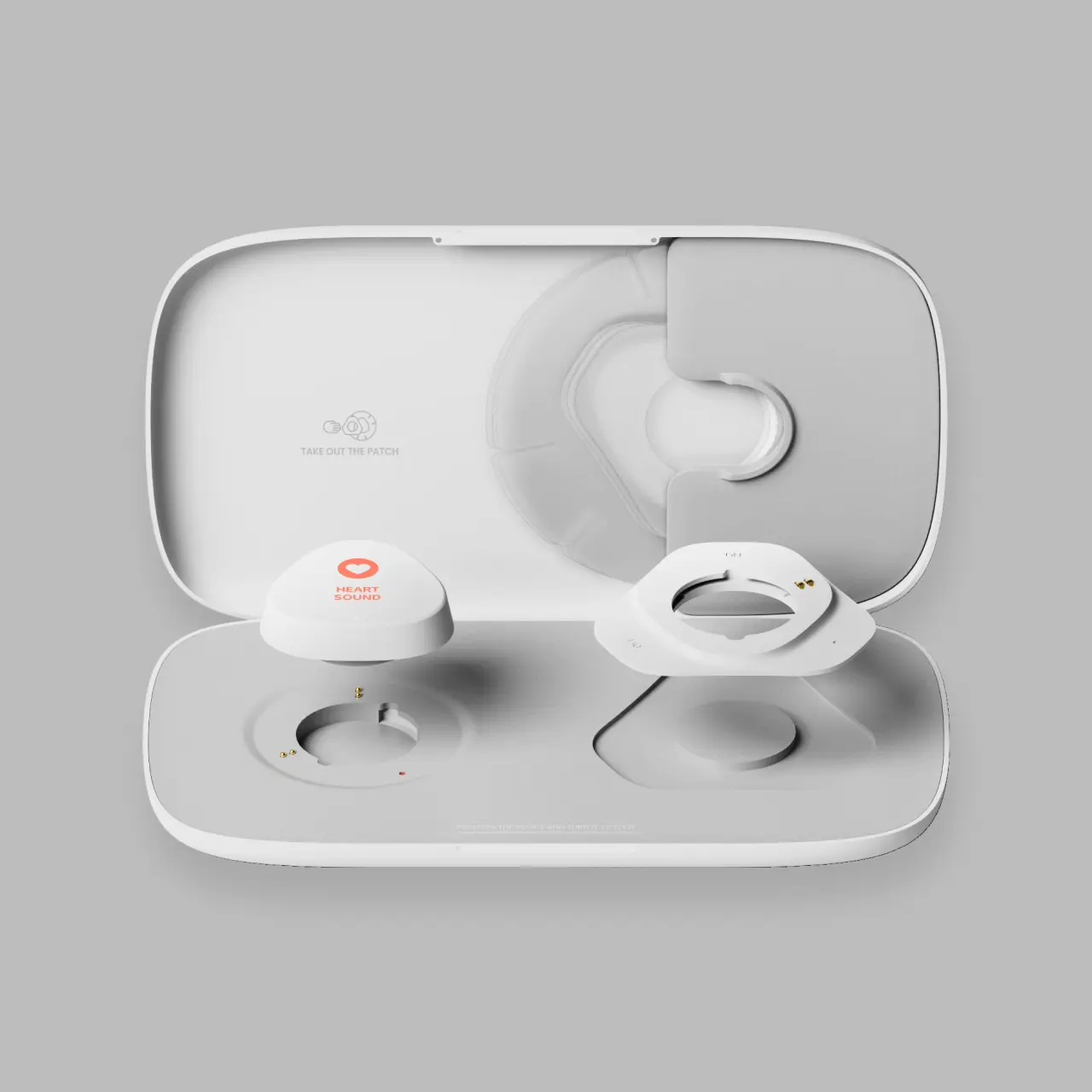 Hardware
Amplification of Microphone Heartbeat Sound
Noise Reduction Technology
Using DSP S/W, Acoustic Filtering Technology
Frequency Change by Mode / Measurement Technology
Bluetooth Communication RF / Antenna Design Technology
Design and Debugging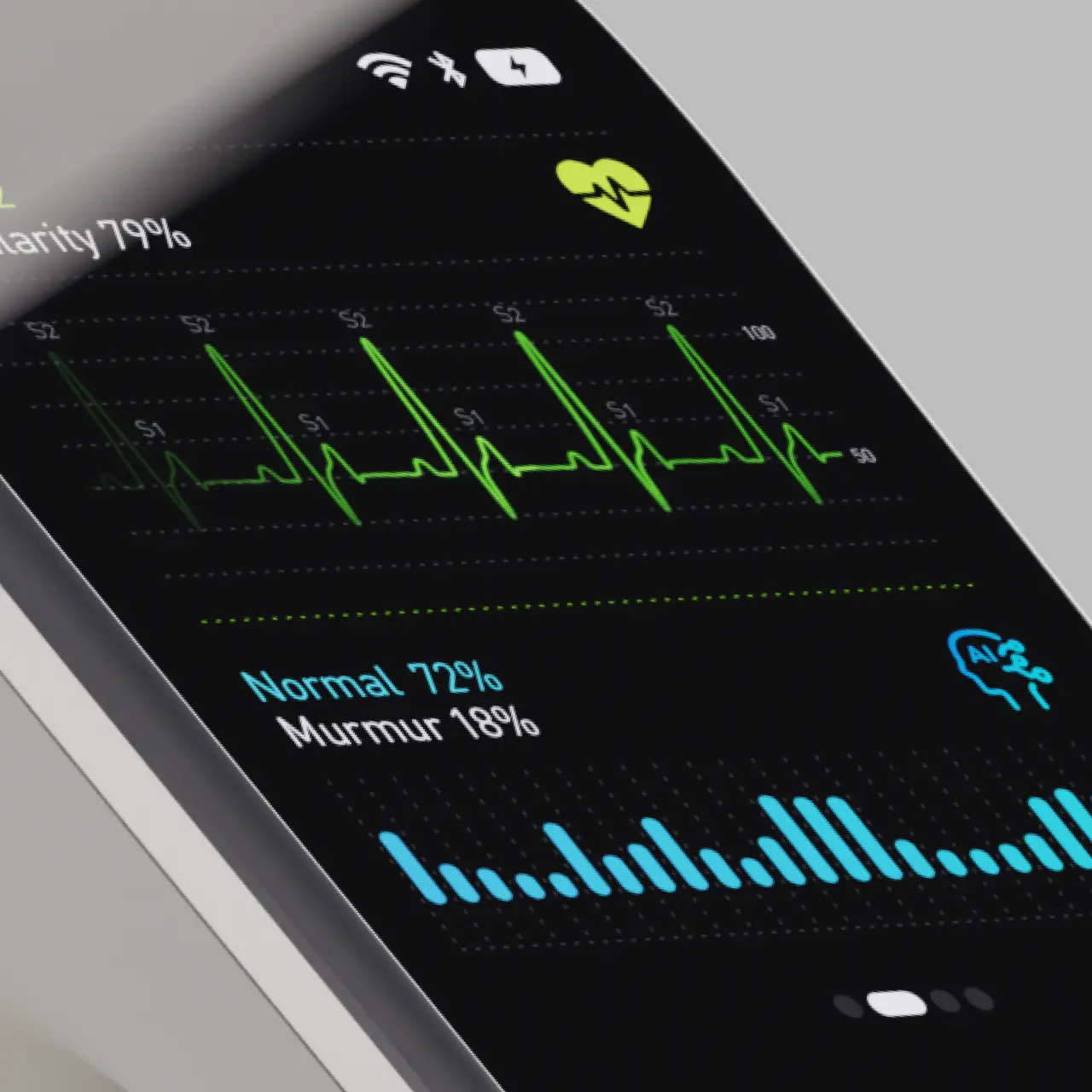 Software
Using Bluetooth, Transfer the Heartbeat Data Technology
Inaudibility Sound Frequency Change & Sound Waves Range Move
Frequency Content Normalization
Heartbeat Visualization Technology
Through the R-Peak Analysis, Calculate the Regularity
History
2022
2022.12
Anyang City Announced (AI) Smart Stethoscope Health Promotion Project with Smartsound
2022.11
Minister of Health and Welfare Award: Merit for Commercialization of Health and Medical Technology in 2022
2022.10
Smartsound 'WITHaPET' Won the European Fressnapf Group Innovation Award
Green Cross Veterinary Products will Distribute 'WITHaPET' in Korea
2022.09
Signed a Global Healthcare Business Agreement with LG Electronics
2022.07
Be+LAB, Signing a Business Agreement for "Building a Smart Healthcare Hub"
2022.05
Interworking with Skeeper® Marine Telemedicine System (Pusan National University Hospital)
Establishment of Data for Chest Hearing AI Learning,' launch of business – Yonsei University Severance Hospital
Development of EMR Connection and Security Enhancement in University Hospitals' – Seoul
National University Hospital
2022.04
'Development of AI Disease Detection Solution for Companion Animals' – Seoul National University Veterinary School
'Development of Mobile Flexible Medical SW based on Edge Computing' – Yonsei University Severance Hospital, Ontact Health
Minister of Science and Technology Award: 'AI Cardiopulmonary Classification Model'
Launch of a clinical study on cardiac sound at Korea University Anam Hospital
Acquisition of ISO 13485(International Quality Standards)
2022.03
Application of COVID-19 home treatment pilot project in Busan City
2022.02
Launch of a fetal monitoring study at Inje University Paik Hospital
The conclusion of business agreement with Kosin University Gospel Hospital
2022.01
Launch of a clinical study on lung sounds at Korea University Anam Hospital
2020 - 2021
2021.12
Designation of innovation prototype by Public Procurement Service
Application to the medical treatment at Chung-Ang University Hospital and exclusive COVID-19 hospitals
Certification as a family-friendly enterprise(Ministry of Gender Equality and Family)
2021.11
Application to the treatment of COVID-19 patients in Seoul Boramae Hospital
The conclusion of an ontact health business agreement
2021.09
Application to the treatment of COVID-19 patients at Korea University Anam Hospital
2021.08
'Development of AI Cardiopulmonary Sound Disease Classification Model'
– Catholic University of Korea Seoul ST.MARY`S Hospital
Certification as Mainbiz(Ministry of SMEs and Startups)
2021.06
Designation as venture country procurement items (Public Procurement Service)
2021.05
Certification as Korea MFDS medical device GMP
2021.01
Exports to Japan, India and Russia
2020.09
Second place in the US NASA World Innovation competition
2020.06
Registered by FDA of the United States
2020.05
Registration as the US Procurement System(SAM) company
2017 – 2019
2019.10
UAE GITEX SUPERNOVA CHALLENGE Winner
Healthcare Innovation Cup Winner of Department of Health and Human Services
2019.05
Winner of the Taiwan COMPUTEX d&I Award
2019.04
R&D cooperation in the healthcare sector with Singapore's Nanyang Technological University(NTU)
2018.03
Winner of the Singapore IOT ASIA 2018 grand prize
2018.01
Participation in the global exhibitions(CES, MWC, CEBIT, etc.).
2017.11
Selection as the Seoul National University Silicon Valley IR Expedition
2017.06
Selection as a high-growth export company
2011 - 2016
2015.12
Selection as K GLOBAL 300
2015.11
Joint development with Seoul National University Medical School(SMASH)
2015.09
K-HEALTH class 1 membership
2014.01
Participation at 2014CES(Samsung Electronics)
2012.06
Cooperation with Samsung Electronics Mobile Healthcare