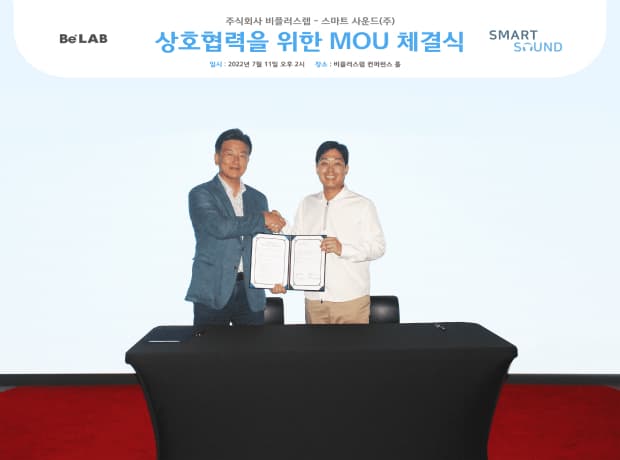 Be+LAB, signing a Business Agreement with Smartsound…"Building a Smart Healthcare Hub"
July 19, 2022
Be+LAB (co-CEO Jeong Hoon-jae and Heo Ki-joon), an AI-based medical solution company, signed a memorandum of understanding (MOU) with Smartsound (CEO Lee Man-chan), a healthcare solution digital company, at Be+LAB Conference Hall in Gangnam-gu, Seoul on the 11th.
The two companies decided on this agreement to secure competitiveness in the non-face-to-face medical market and to discover and realize potential business opportunities. Through this, ▲ it plans to build a healthcare hub using digital devices and platforms, ▲ develop medical big data and algorithms, ▲ jointly participate in government support projects, and ▲ promote business cooperation on other agreements between the two companies.
Be+LAB launched its AI-based medical information service platform "Adiapa" in 2018 to unveil its AI questionnaire service, and recently expanded its business area by launching non-face-to-face treatment, pharmaceutical preparation, and delivery services. Smartsound is a medical IoT company that has developed a smart stethoscope "Skeeper" optimized for non-face-to-face treatment. In particular, it was selected as the U.S. NASA's high-tech global top 25 in 2020, and in April, it received the "Minister of Science and Technology and Information and Communication Award" for its excellent evaluation in terms of the achievement of research on the development of AI solutions based on stethoscope and social contribution.
The two companies are the first to build a healthcare hub environment using the technologies of 'Adiapa' and 'Skeeper'. In addition, it will participate in the development of chronic disease management projects through non-face-to-face treatment combined with smart stethoscope and AI questionnaire. It will also cooperate to advance medical big data and algorithms by combining AI questionnaire data with stethoscope sound.
It will also actively participate in government-funded projects. It has decided to seek business opportunities for integrated care in the community and the elderly.
In particular, it has also decided to contribute to the development of health care service platforms and device links for pregnant women and infants. Jeong Hoon-jae, CEO of Be+LAB, said, "We are happy to cooperate with Smartsound, which leads the non-face-to-face stethoscope medical field with world-recognized technology," adding, "As AI interviews and smart stethoscope technologies are combined, we expect to provide detailed and accurate treatment in the future."
Lee Man-chan, CEO of Smartsound, said, "Through this business agreement, the two companies decided to jointly participate in government-supported projects such as community integrated care projects and health care projects in the early stages of their lives."