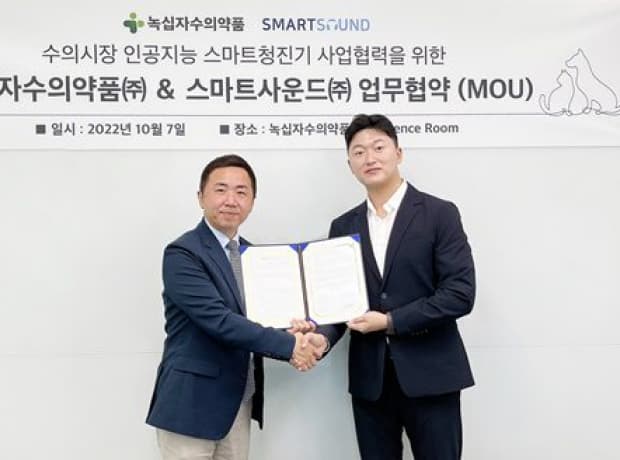 Green Cross Veterinary Products will distribute Smartsound's wireless stethoscope 'WITHaPET'
October 12, 2022
Green Cross Veterinary Products Co., Ltd. distributes the hot topic of wireless smart stethoscope "WITHaPET." Smartsound's WITHaPET was introduced at the Busan Veterinary Conference and Seoul Veterinary Clinical Conference, drawing attention from veterinarians.
Green Cross Veterinary Products Co., Ltd. (CEO Na Seung-sik) and Smartsound Corporation (CEO Lee Jung-ho) announced on the 7th that they have signed an agreement to expand the pet medical and healthcare market for "WITHaPET," a wireless smart stethoscope for pets.
WITHaPET is an animal wireless smart stethoscope that optimizes the smart stethoscope technology verified by the hospital for 12 years by Smartsound, which was founded in 2011, to the pet and animal hospital system.
It can measure the heart, lung sound, heart rate, and respiratory rate of pets in real time, and listen and record stethoscope through a dedicated app. In addition, it is designed to transmit data to the chart through interworking with EMR.
In addition, it will provide early diagnosis assistance services for dogs' heart disease (MMVD) through artificial intelligence (AI) from the first quarter of 2023.
Green Cross Veterinary Products said, "We plan to continue to release various products to promote the welfare of pets and explore the market in the AI healthcare field through an agreement with Smartsound."