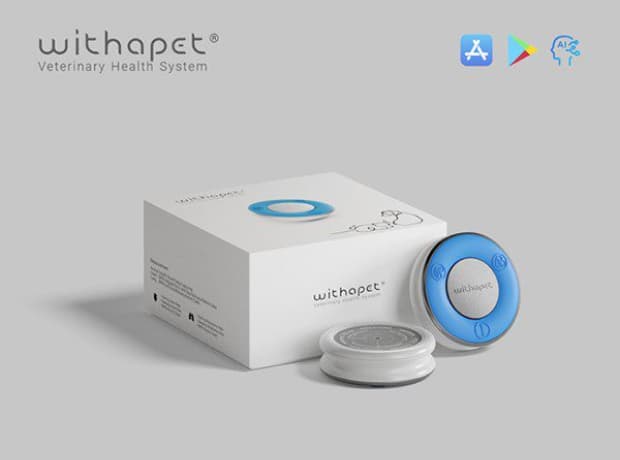 Smartsound Corporation launches 'WithaPET', an AI stethoscope for pets
October 12, 2022
Smartsound Corporation (CEO Lee Jung-ho), a company specializing in smart stethoscopes, announced that it will launch "WithaPET," an "AI stethoscope for Pets," in the global market through the world's largest academic conference, "New York Vet 2022," in New York on November 2.
WithaPET is an animal smart stethoscope that has optimized smart stethoscope technology verified at Hospital for the past 12 years to be suitable for pet stethoscope and veterinary hospital system linkage. It is designed to be able to measure the heart, lung sound, heart rate, and respiratory rate of pets in real time, and to record real-time stethoscope data through a dedicated app or to transmit it through an EMR system linkage.
Through optimization technology, a light weight of 20g has been realized, and it is designed to enable stethoscope on pet fur and stethoscope for newborn dogs under 200g. In addition, it is expected to establish itself as the primary health diagnosis and screening device for companion animals in the future through AI diagnostic services for cardiopulmonary diseases.
The dog cardiopulmonary disease AI diagnosis service will be provided sequentially around the world from January 2023. It will first provide veterinary hospitals and pet platform operators with a solution that can automatically analyze and diagnose heart diseases, which account for a high mortality rate of small old dogs, with artificial intelligence (AI).
Smart Sound is currently collecting and conducting research on heart disease data such as MMVD (Degenerative Mitral Valve Disclosure) through clinical cooperation with Seoul National University Veterinary College, and expanding research with Chungnam National University Veterinary College.
Smartsound said, "By securing a high level of diagnostic accuracy with WithaPET AI, we can save our precious dog's life and maintain health by early diagnosis of MMVD, a heart disease that about 85% of small old dogs suffer from."