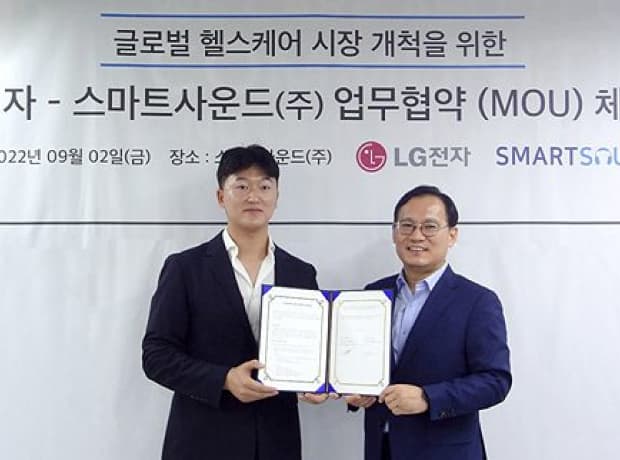 Smartsound Corporation signs Healthcare Business Agreement with LG Electronics
October 5, 2022
Smartsound(CEO Lee, Jung-ho) announced on the 5th that it recently held a business agreement ceremony with LG Electronics on its healthcare business.
The two companies decided to establish a close win-win cooperation system so that LG Electronics can smoothly develop a global market by applying a smart stethoscope "Skeeper" developed by Smartsound and a solution to diagnose human sound signals with AI.
Since its foundation in 2011, Smartsound has developed a human sound capturing (HSC) system, a key sound processing technology, and an IoT-based smart AI stethoscope "Skeeper" with AI technology, which is accelerating its global market development.
SKEEPER is known as the first solution to store and treat various human sound signals in the medical information system by linking with the EMR(Electronic Medical Record) system of Seoul National University Bundang Hospital.
In addition, through clinical cooperation with 10 of the world's best general hospitals, including Korea University Anam Hospital, clinical data on the heart and lung sounds of patients visiting the hospital are collected and analyzed on the largest scale. It has secured AI diagnostic technology that can diagnose major symptoms of heart and lung diseases with high accuracy, which is the world's No. 1 to No. 4 mortality rate, and is determined to stand as a leading company in the field of human voice AI diagnosis.
"The goal of LG Electronics' healthcare solution business is to provide various solutions such as healthcare and non-face-to-face telemedicine so that customers can receive prevention-oriented medical services based on existing prescription and treatment management," said Choi Kyu-nam, executive director of LG Electronics' solution business.
"We expect LG Electronics to play an important role in expanding the global telemedicine and home care market through this business cooperation with Smartsound," he stressed.
"Our dream is to become a new global leader in the AI smart stethoscope market," said Lee Jung-ho, CEO of Smartsound. "This business cooperation will be a great help to accelerate the achievement of LG Electronics' global healthcare business capabilities."
Find out more about the article from the following sources.