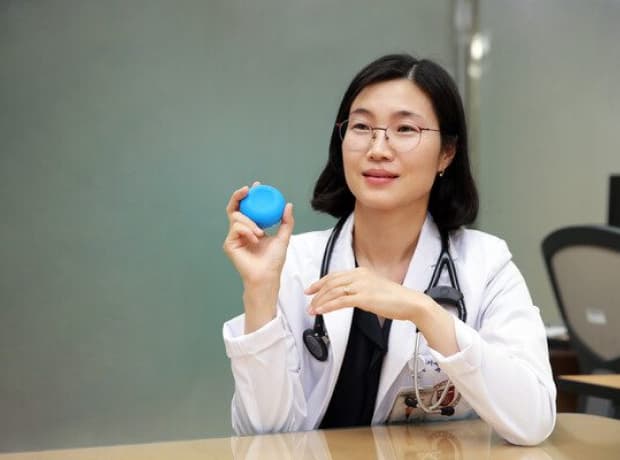 Why Korea University Anam introduces Non-Face-To-Face Smart Stethoscope SKEEPER?
August 22, 2022
Why Korea University Anam introduces non-face-to-face smart stethoscope SKEEPER?
Lee Eun-joo, a professor of respiratory and allergic medicine at Korea University Anam Hospital, said, "I decided that the technology of Smartsound Corporation, which was linked to the national task last year, could be used in the medical field," and added, "I received great help in treating infectious disease patients with non-face-to-face smart stethoscope donated by the company."
In fact, Smartsound's Skeeper was used prominently in the process of monitoring real-time stethoscope through a Bluetooth-connected app, such as stethoscope for patients inside the isolation room, wireless stethoscope for nurses wearing barriers according to instructions from doctors outside the isolation room.
It was also possible to transmit the stored stethoscope to the doctor in charge and store the stethoscope data for each patient to check the change in symptoms and manage the history.
Using patented technology that accurately measures human sound signals such as lungs(breathing), bronchial tubes, and hearts, non-face-to-face auscultation is possible based on Bluetooth wireless communication, and lung-sound lesions are stored at each measurement location, making the most of the advantages.
Bluetooth-based non-face-to-face stethoscope, which can store sound signals by measurement location
Professor Lee Eun-joo said, "Because of the risk of radiation, CT cannot be taken every time, and there is a limit to X-rays alone. Quarantine is also very important, she said. "I was able to have auscultation with minimal contact, and the technology to check the improvement of my fellow professor who had COVID-19 every day surprised many people and felt grateful."
It felt advanced technology such as designing products optimized for non-face-to-face treatment, which is portable and can be easily used from measurement to remote transmission, and securing data consistency and reliability in the entire process of measurement, storage, analysis, and transmission.
She added that it is also impressive to see domestic companies developing and making efforts to quickly accept and develop various ideas presented by medical staff.
It drew attention by introducing ways to take emergency measures by listening to normal sounds in mental breathing difficulties that can cause various panic and panic disorders, and also introducing parts where you can listen to real sounds and learn vividly beyond the limits of books in education for prospective medical personnel.
"Outstanding Efficiency New Weapon for Medical Staff, Direction to Go"
Meanwhile, when asked about future development and improvement, Professor Lee Eun-joo advised, "I'm looking forward to AI's integration, but it would be more convenient if we could solve everything such as analysis, record management, and data transmission with one device even if we don't install additional apps on our smartphones."
In line with this, Smartsound Corporation will insert a number of advanced digital functions while saving the existing stethoscope design itself, and will also release a product that catches two rabbits, maximizing classical sensitivity, function, and convenience.
At the end of the interview, she said with a bright smile, "I am really encouraged by the fact that we have new weapons for medical staff that are excellent in efficiency, and I hope they will be distributed to more medical institutions."